Thanks for reading our Kindle book. Your bonus coupon is at the bottom of this post. 
Our coconut flour comes to your from a process in which it basks in the delicious sun on the beautiful island of Sri Lanka  until it is ready to be harvested by local farmers and dried in small batches at low temperatures, remaining truly raw.
In choosing the coconut, avoiding the dangers of the modern wheat-based diet is just the beginning. Coconut flour is a powerful ally in detox, providing fuel for the body, helping burn fat. Being highly absorbent, it satisfies cravings by allowing you to have your favorite breads brownies, cookies, cakes, muffins, pancakes, tortillas, wraps, fish, chicken, soups, gravies, and smoothies. Our coconut flour is considered safe for diabetics, yet substantial protein and healthy fats give your body what it needs with lots of vitamins and minerals. Before you check out our listing on Amazon, here are some important facts you should check out: 
We are…

♥  Low-carb, low-glycemic, and hypo-allergenic ♥ , a great option for those with health concerns, like those with carbohydrate intolerance, celiac, allergies, or those with digestive issues or trying to lose weight, and even for vegetarians and vegans
♥  Your satisfaction is 100% guaranteed ♥   84% of respondents having chosen Cookoo over leading brands in our double-blind taste tests, with participants preferring our coconut flour 2:1 for baked goods. Just give us a try with great selected healthy recipes
♥  Lab-tested gluten-free ♥  and packaged in a dedicated gluten-free, allergen-free, GMO-free facility where only other whole coconut     products are made
♥  Our coconut flour's versatility is unmatched ♥  helping you through the day to not only make wholesome and creative snacks and meals, but providing your family energy, with its MHTs (medium-chain triglycerides) that have been proven to assist in healthy weight management
♥  Nature's tastiest superfood! ♥   A great way to please the young, from dieters to weight lifters:  wake up to paleo pancakes and coconutty smoothies, and wind down with chocolate chip pumpkin cookies and banana bread, with fried zucchini cakes throughout the day!
♥  Beyond Organic ♥  Our special promise to you is that we will not allow any harmful ingredients  allowed by the USDA like carageenan into our products, whether they are called "organic" or not and we carry the certified USDA organic certification for your peace of mind. 
Once you have ordered on Amazon we are here to support you. In the blink of an eye, that oh-so-beautiful brown box will arrive at your door from that tropical jungle we call Amazon. Inhale the fragrant aroma of your freshly cracked coconuts. Admire one of the finest labels of Coconut Country– low in cholesterol, but filled with love and caring. Welcome to Coconut Country Living, life worth living. Check out our 3-lb size: your freezer is hungry too! As you settle into the bliss of Coconut Country, we have a special surprise for you.  You will swiftly get our complimentary free recipe e-book with our finest coconut flour recipes! Enjoy! We would love to get your review on Amazon.
Tell us what you think when you have a taste (it was just sent to all the Amazon shipping centers and is now in stock as of 10/6/2015)!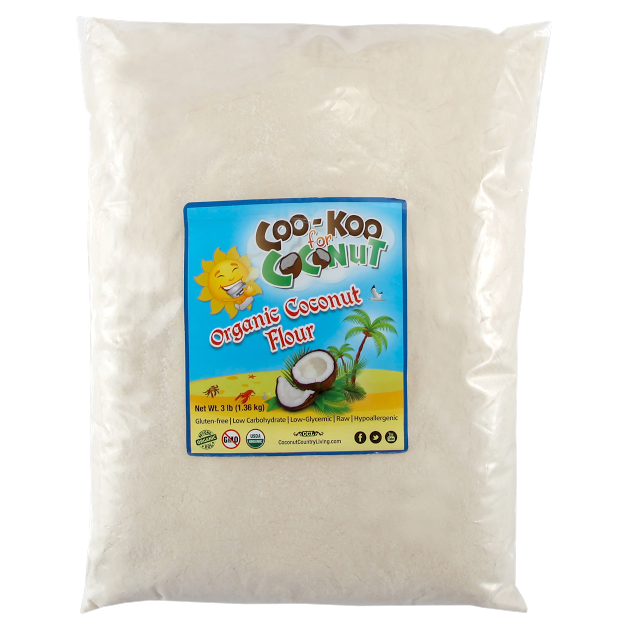 Copy Code COCONU3L for Extra Savings at Checkout!