Be healthy and worry free with this easy to prepare gluten free sunshine to start your day in for form of these special sunrise double berried muffins. What better way to start your day? Let alone your week!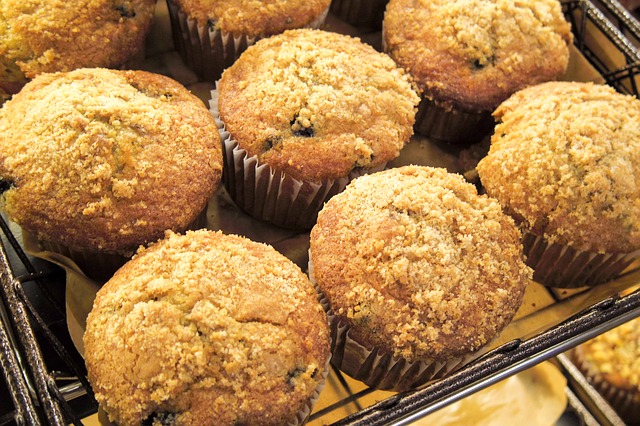 Muffins:
1/2 cup coconut sugar
2 tbsp. fresh organic orange juice
1/4 cup butter, melted
1 large pastured egg
2 cups gluten-free flour
2 tsp. baking powder (aluminum and GMO free)
1/2 tsp. fine pink Himalayan salt
2/3 cup coconut milk (BPA free– preferably fresh!)
1/2 cup fresh organic blueberries
1/2 cup fresh organic strawberries, chopped somewhat finely
Optional Topping:
1/4 cup gluten-free flour
1/4 cup coconut sugar
1 tbsp. organic extra virgin coconut oil
A dash of Ceylon cinnamon powder
How to make Gluten Free Flour Mix:
2 cups amaranth flour
2/3 cup tapioca flour
1/3 cup organic coconut flour
1/2 tsp. chia gel (made from white chia seeds)
(Mix all these ingredients together in medium mixing bowl)
Procedure for Muffins:
1. Preheat oven at 400 °F.
2. In a mixing bowl, mix thoroughly sugar, orange juice and butter.
3. Add in egg and beat until combined well. Slowly add in flour, baking powder, and salt.
4. Pour in milk until well mixed
5. Fold in blueberries.
6. Fill muffin tins lined with parchment paper out 2/3 full with batter.
Topping:
7. In a small bowl, combine all the ingredients for the topping and mix with a fork until mixture is crumbly.
8. Sprinkle topping over each muffin.
9. Bake for about 20 minutes or until slightly brown and toothpick comes out clean.
10. To cut down on extra sugar or sweetness, top with plain organic yogurt or even enjoy with some almond butter!
11. Serve and enjoy!
Also See: Gluten Free Double-Berry Sunrise Muffins