Keep your sweet tooth satisfied with this best gluten free dessert. Serve it with hot whole milk or lemon tea for an added nutrients that your body needs!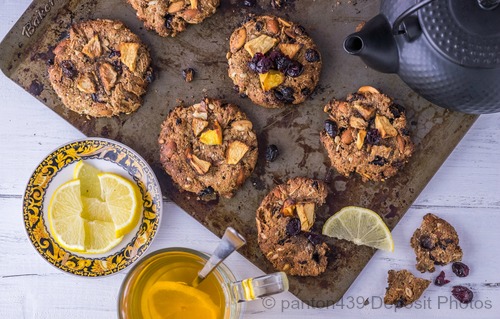 Ingredients
1/4 cup unrefined virgin coconut oil
1/4 cup palm shortening or butter
2 tsp. real vanilla extract
1/2 cup coconut sugar
1/3 cup low glycemic honey
1 large pastured egg
1/2 cup almond slivers
1/2 cup unsweetened coconut flakes
1 cup gluten-free flour blend*
2 tsp. baking powder
1 tsp. sea salt
2 tbsp. cinnamon powder
1/2 tsp. ground cloves
1 cup raisins
Gluten Free Flour Mix:
1 cup almond flour
1/2 cup organic coconut flour
1/4 cup non-GMO cornstarch
2 tbsp. tapioca flour/starch
1 1/2 tsp. chia eggs
Procedure
1. In a large mixing bowl, cream together oil, shortening or butter, vanilla, sugar and honey until nice and smooth.
2. Add in egg until it is well blended.
3. Add in nut slivers, coconut flakes, flour, baking powder, salt, cinnamon and cloves until mixture is slightly crumbly. Fold in your raisins.
4. Using a tablespoon, scoop dough onto  baking sheet lined with parchment paper. Flatten the cookies with your palm while keeping the round shape.
5. Bake at 375 °F for about 12-15 minutes or until they are slightly brown on edges. Let them cool completely on a wire rack.
6. Mix altogether the gluten free flour mix ingredients.
7. Mix all the ingredients together until they are well blended.
6. Serve and enjoy!
See Also:  Gluten Free Nut Pulp Raisin Cookies