Serves 12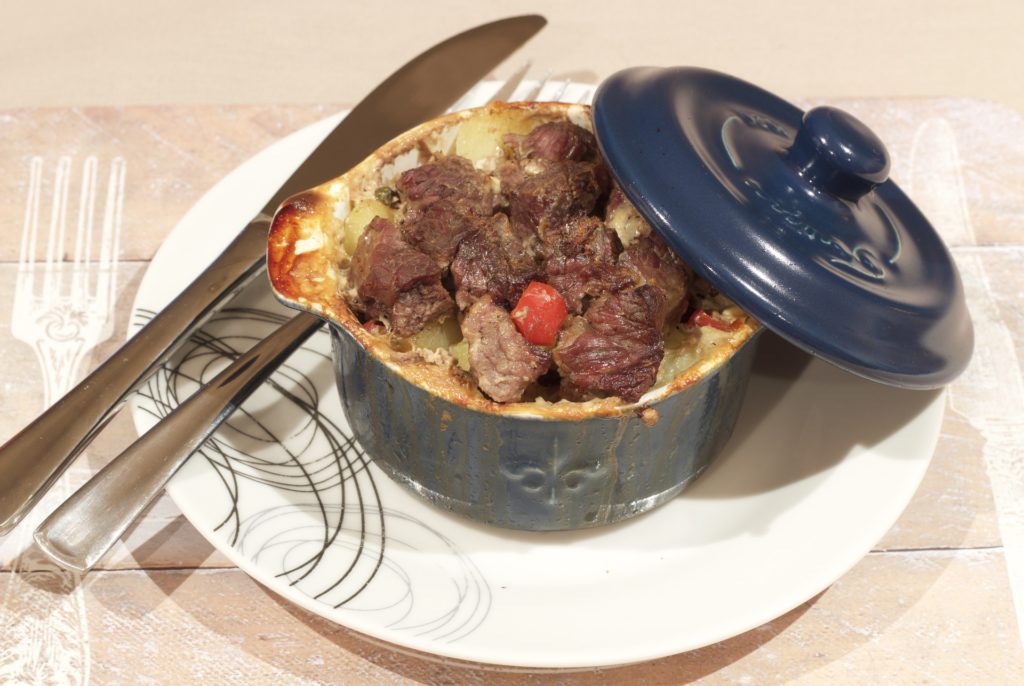 Ingredients:
For Braised Beef:
2.5 pounds of boneless beef chuck (not lean) cut into 2-inch pieces**
3 TB of olive oil
3 carrots, quartered
3 celery ribs, quartered
2 medium onions, quartered
2 heads of garlic, halved
3 TB tomato paste
1 TB Red Boat fish sauce
1 750 mL bottle dry red wine***
1-2 bay leaves2 thyme sprigs
4 cups of homemade beef stock (recipe in the NYT article above or find some from a butcher shop, please don't shortcut with boxed broth here)
4 cups of water
For Potatoes and Carrots:
2 pounds Yukon gold potatoes, peeled and quartered
1.5 pounds carrots, peeled and quartered
Cook:
Preheat oven to 350°F with rack in middle.
Pat beef dry and season with 2 1/2 teaspoons salt and 1 teaspoon pepper.
Heat oil in a pot over medium-high heat until it shimmers, then brown meat, without crowding, in 3 batches, turning, about 8 minutes per batch. Transfer to a platter.
Reduce heat to medium, then add carrots, celery, onions, and garlic and cook, stirring occasionally, until well browned, about 12 minutes.
Push vegetables to one side of the pot. Add tomato paste to cleared area and cook paste, stirring, 2 minutes, then stir into vegetables.
Add vinegar and cook, stirring, 2 minutes.
Stir in wine, bay leaves, and thyme and boil until wine is reduced by about two thirds, 10 to 12 minutes.
Add broth to pot along with water, beef, and any juices from platter and bring to a simmer. Cover and braise in oven until meat is very tender, about 2 1/2 hours.
Set a large colander in a large bowl. Pour stew into a colander. Return pieces of meat to pot, then discard remaining solids. Let cooking liquid stand 10 minutes.
Add potatoes and carrots to stew (make sure they are submerged) and simmer, uncovered, stirring occasionally, until potatoes and carrots are tender, about 40 minutes. The original recipe calls for 5 lbs of meat, I used less, but if you like a meatier stew please up the quantity. This recipe makes a thinner stew, which is my preference, but if you want to thicken it up, you can add more meat, potato, and carrot. You can also coat the stew meat in flour before you brown it to add some thickness.
I used a combination of flat Lambrusco and really great sherry. This is not ideal, for obvious reasons, but the stew still came out insanely good. I would recommend using a dry red wine, but also adding a TB or two of great sherry to the braise. Please throw away all your cheap cooking sherry and invest in a really stellar bottle, it's worth it, I promise.