GLUTEN FREE PALEO CINNAMON ROLL COFFEE CAKE (yum!)
This Paleo Cinnamon Roll Coffee Cake recipe has all the flavors of not only true cinnamon but a cinnamon roll in the most delicious paleo coffee cake! It's gluten-free, dairy-free, and delicious, worry-free and TASTY!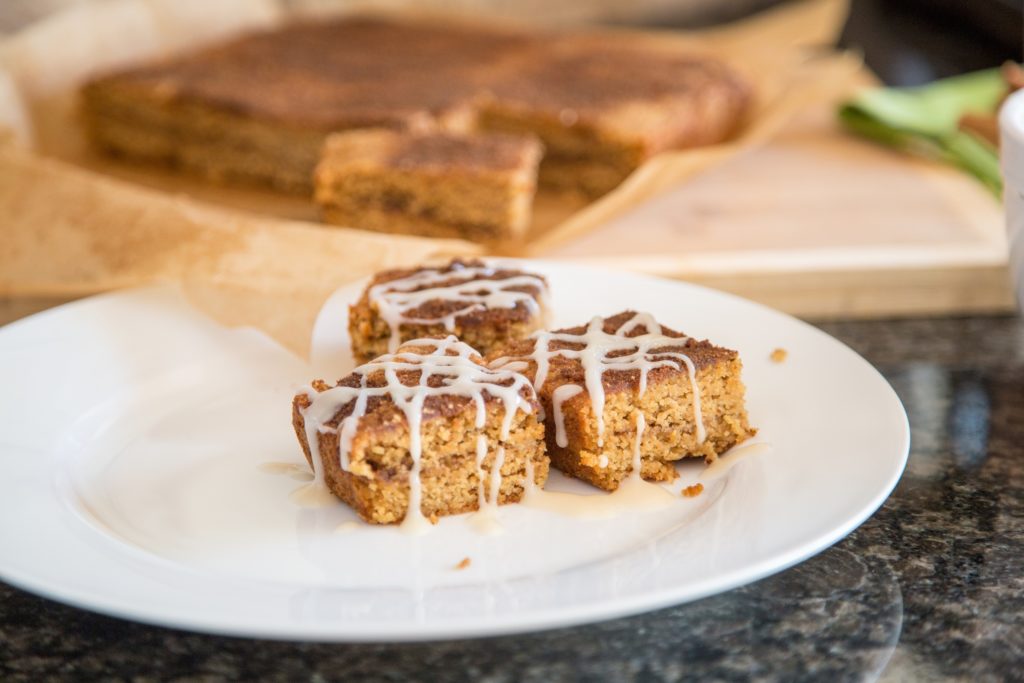 Have you ever thought of coffee cake as being for old people?
Well, believe you me when my 1- 4- and 5- year old get a whiff of these puppies, they get quite ravenous!  This delicious breakfast treat also doubles for the perfect after-dinner dessert, and it's nice and easy. So don't worry about frizzling your hair; this simple naturally sweet cake, with its thick cinnamon sugar swirl, not only livens up some warm family time but will delight your guest with its special twist!
To be truthful, this coffee cake is so moist it doesn't really need a glaze, but why skimp with such a crowd-pleaser, especially if you can still keep it relatively low carb? Two of the things that makes this cake stand out is the organic Ceylon cinnamon (aka "true cinnamon") from Sri Lanka and just a little bit of vanilla extract that livens things up in a sugar-free way (like the cinnamon).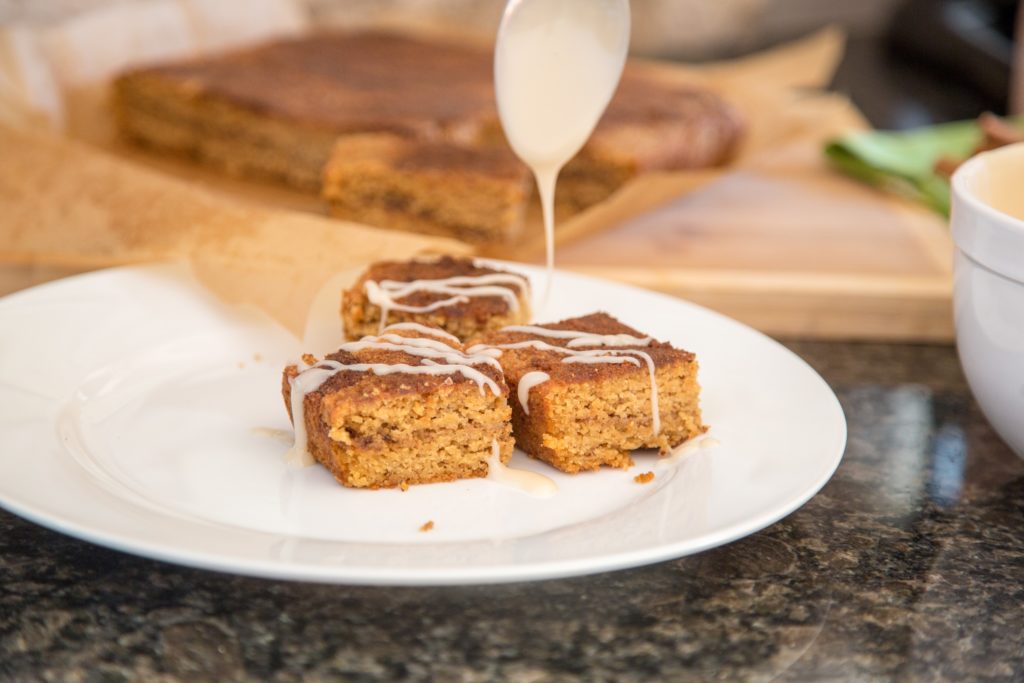 This cinnamon is doesn't just sweeten things up, from coffee to cakes to applesauce- it's amazing health benefits span a whole host of conditions. Heck, it even helps you lose weight! Since the vanilla extract is real, not imitation, it adds to the mix of cinnamon and coconut sugar to keep those sugar lovers in the crowd at bay too.
Note:  Though the Ceylon cinnamon powder isn't certified fair trade, the organic Ceylon cinnamon sticks sold by CCL are (so if you like grinding your own powder, you can go here to get the cinnamon quills at a great price).
Of course, all of Coconut Country Living's products are organic, packaged in a gluten-free and allergen-free facility, and sustainably sourced, including their spices and coconut products.
CCL also does it's best to support groups like the Organic Consumer's Association, which makes customers aware of the dangers of Monsanto's dangerous products Roundup (glyphosphate) and when there are genetically modified ingredients being sneaked into your favorite foods.
While the coffee cake is great anytime, this treat is especially nice in the colder months, since it matches so well with tea, coffee, or cocoa.  It's a great way to introduce children to the finer things in life and might even get them used to eat off of china instead of plastic or paper plates!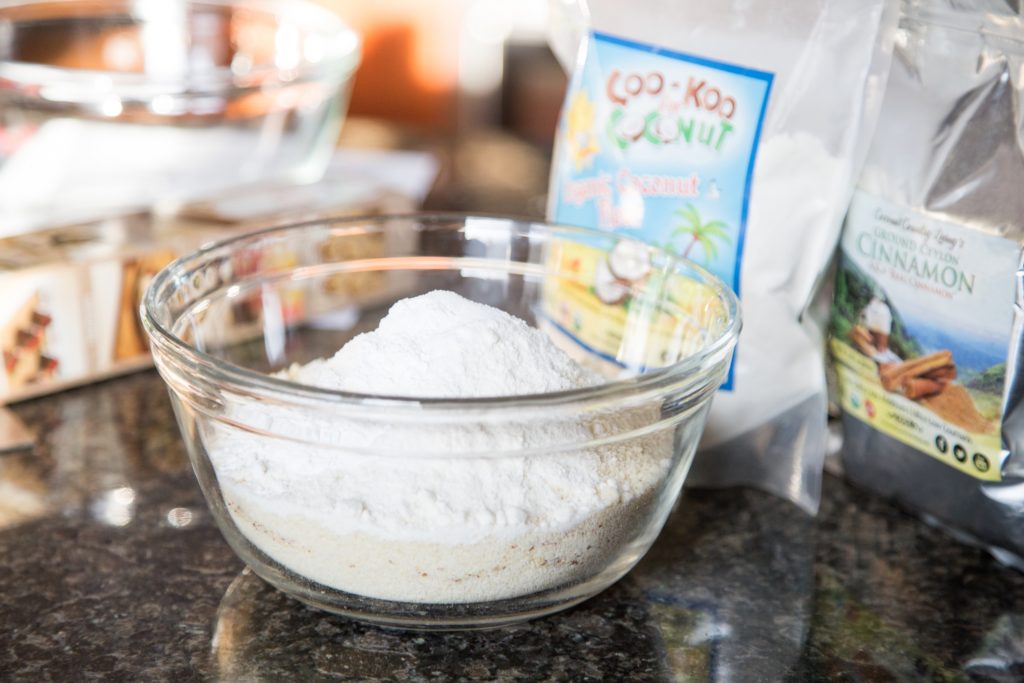 If you're looking to keep a little paleo cinnamon roll coffee cake for guests or just to treat yourself later in the week, this keeps well in the fridge, if it is covered for up to 5 days.
Since eating a piece of this tastes just like a cinnamon roll, you will absolutely fall in love with it! Gluten-free, dairy-free, paleo, and oh so good!  Just be aware that your batter may not look that great initially, but hang in there, what you will get in the end will be magnificent, if you just follow these directions.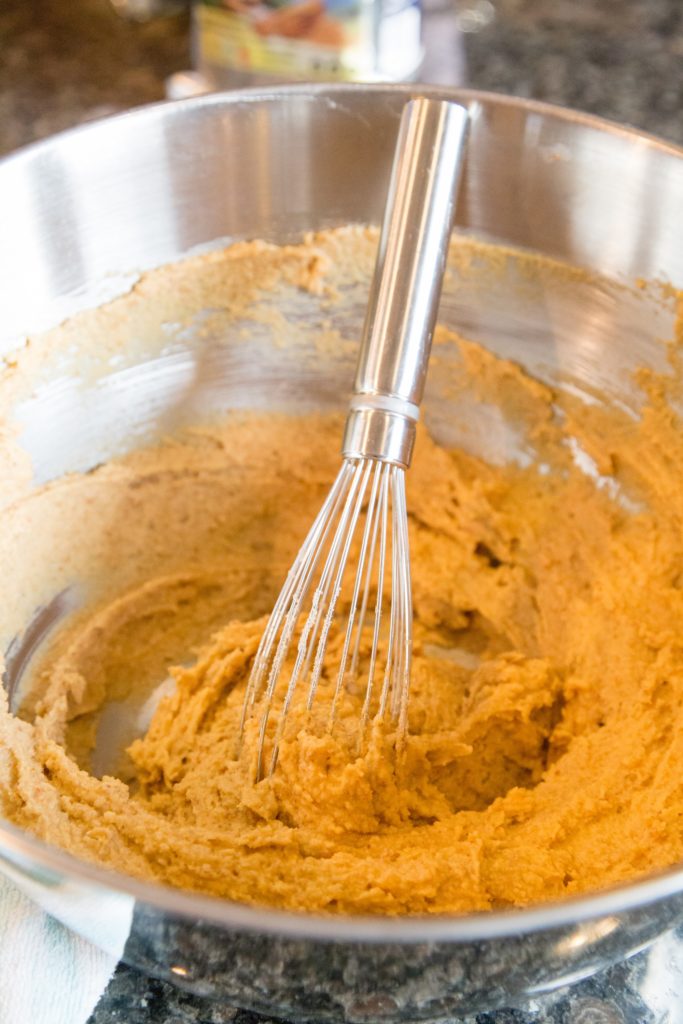 PALEO TRUE CINNAMON ROLL COFFEE CAKE
INGREDIENTS
CINNAMON SUGAR MIXTURE
1/4 cup coconut sugar
2 teaspoons Ceylon cinnamon
COFFEE CAKE
3 cups almond flour
1/2 teaspoon baking soda
2 teaspoons aluminum- and GMO-free baking powder
1/2 teaspoon Himalayan pink salt
1/2 cup organic coconut oil, room temperature
3/4 cup coconut sugar
3 organic eggs, room temperature
1 teaspoon organic vanilla extract
1/2 cup almond milk
1 tablespoon coconut oil (for after baking)
GLAZE
1/4 cup coconut butter (best to melt by putting the jar in a pot with water or double boiler for 10-15 minutes)
2 tablespoons real honey
1 teaspoon real vanilla extract
2-3 tablespoons almond milk
STEPS
Make your cinnamon sugar mixture: by combining the coconut sugar and cinnamon in a small bowl, mix well and set it aside.
Make the coffee cake by preheating the oven to 325° and lining a 9×9 square pan with parchment paper.
In a medium bowl, combine your almond flour, coconut flour, baking soda, baking powder, and salt. Stir them until evenly mixed.
In a large bowl, combine the warm coconut oil and coconut sugar, mixing until combined.
Add the eggs, vanilla, and almond milk and stir until smooth.
Add the dry ingredients to the wet ingredients and stir well, making sure no dry spots remain.
Pour half of the batter into the prepared pan and sprinkle two-thirds of the cinnamon-sugar mixture on top.
Carefully scoop the remaining batter on top, making sure all the cinnamon sugar is covered.
Bake the batter for 35 minutes.
As soon as it comes out of the oven, take the 1 tablespoon of coconut oil and spread it all over the top then sprinkle with the remaining cinnamon-sugar mixture.
While the cake is cooling, make the glaze: In a small bowl, combine the coconut butter, honey, vanilla extract, and almond milk. Mix until smooth and thin enough to drizzle on the cake.
Once the cake has cooled, top with the glaze. You can technically top it while it's warm, but it won't make pretty lines.
We really would love to hear how your paleo cinnamon roll coffee cake turns out! But we also wanted to let you in on a secret.
Though we did put some effort into making our turmeric hacks book #1 best seller on Amazon, we have an equally neat Ceylon cinnamon hacks book we are currently giving away for free on Amazon!
Well, technically, it's buying the cinnamon, get the book free, but they kind of go together anyway. : )
If you'd like to join us in Coconut Country for some great cinnamon as we heal the world through tasty superfoods, we'd love for you to join us. Our organic Ceylon cinnamon powder is currently on special and going fast!
So get this perfect complement to everything from coffee and tea to gut-healing homemade applesauce and amazing cookies and cakes.
Just click here or just go to Amazon.com and type in organic Ceylon cinnamon powder for the latest shipment of Coconut Country Living's tightly packaged in mylar foil packaging so it's extra fresh and tasty and look for that free e-book in a follow up to your order.
All of our products are very safe, being packaged in an FDA-approved facility, away from gluten, GMOs, nuts, and other allergens (spices or coconut only).
We look forward to helping you make other fun recipes, so drop us a line once you taste the cinnamon!
The Coconut Country Living Team