Where Can You Buy the Best Organic Moringa Leaf Powder for Your cooking Needs in the Current Shortage?
The Truth About Where You Can Still Buy Organic Moringa Leaf Powder, Even During the Covid Lockdown.
Recently we've been asked about where our customers can buy the best organic moringa leaf powder during the shortages caused during the coronavirus crisis. 
This is likely because sources of nutritious food have become more difficult to find as stressors continue in the food system from irregularities in the supply chain. However, the truth is that moringa can still be found through various venues.
These irregularities in moringa supply happened primarily when entire countries like India and Sri Lanka "shut down" because of precautions taken against the coronavirus.  What this practically meant was that certain manufacturers (like those that supply glass bottles) went out of business while entire shipping operations were paused, with many products waiting in port extra weeks before they could finally be shipped.
Where You Can Still Buy Organic Moringa Leaf Powder
First, customers should know that the moringa tree grows in temperate climates. So while it may take some years to get the sort of foliage necessary to get substantial amounts of nutrition from the tree, it can be a good investment in one's health. 
Second, besides some local ethnic stores where it is possible to find drumsticks (moringa pods) or moringa leaves, there are various platforms online that still allow the sale of moringa.  These include some Shopify stores, Amazon.com, Etsy, and Ebay.  
Fortunately, Coconut Country Living is currently able to sell its two larger sizes of moringa powder on the latter four platforms.
If health seekers are interested in acquiring moringa today, it's fairly easy, though we recommend moringa from only the cleanest sources that use clean water and healthy soil in the growing of the moringa trees.
Some things those seeking the benefits of moringa should keep in mind is not only organic certification, but also testing for pesticides, heavy metals, and pathogens, as contaminated moringa is often not caught under standard FDA or USDA procedures.
That being said, there are still many good choices available for moringa leaf powder and moringa oil, though we believe that we ourselves have been able to acquire the healthiest moringa leaf powder for our generational supplier in Sri Lanka.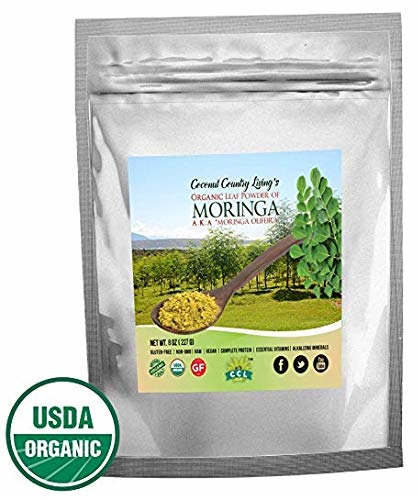 As Coconut Country Living's mission is to "heal the world through tasty superfoods", we have made it a priority to not only is make sure our own moringa is certified organic and triple tested for purity so you can have only the freshest, healthiest moringa, but it's also enriched from the minerals in the rich soil of Sri Lanka that give gusto to CCL's spices and coconut products so we have gotten reviews back like this:


While Coconut Country Living is working hard to keep the supply chain moving to stay in stock, we are also advising customers to stock up on our moringa leaf powder as it lasts at least 3 years in our mylar foil resealable bags.
To help customers with some tasty recipes, CCL is also offering the free e-book The Moringa Miracle:  Make Magical Meals with Moringa, the Never Die Superfood.  In this powerful guide, you'll not only find the latest cutting edge research on the hundreds of benefits moringa has to improve your life, you'll also find the tastiest recipes from those munchable moringa muffins to moringa chocolate that will have you and your guests coming back for more.
It's yours with any purchase, as our customers feel the stress of all the covid regulations.
So don't settle for multivitamins notorious for poor absorption, make your medicine your food and take advantage of what has been called the most nutritious superfood in the world.  CCL's superfood store is still where you can  buy the best organic moringa leaf powder for your cooking needs.
Spread the word about what moringa is doing in your life to help you #staysafe and healthy, without any unnatural additions to your routine. Restock your moringa today as the perfect immune food, and we will see you in Coconut Country!